I slept 5 hours this night. I'm still very tired but wanted to make a short recap of my 2 days trip to Berlin where I had the chance to meet Tim Ferriss in Person.
On tuesday morning I got a mail from my friend FilOnTheRoad asking me if I wanted to go to Berlin for a 4hww Party to meet Tim Ferris and Maneesh Sethi in person.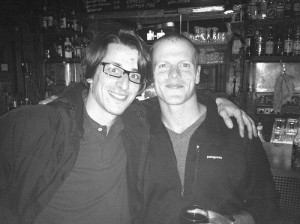 So I packed my bag, booked a train ticket from my iphone and jumped onto the train from Hamburg for 90 minutes. Berlin had me again (I lived there 11 years ago, in the waves of the first DotCom rising).
The party was held at the L.U.X Club in Berlin Kreuzberg. I think about 100 people showed up. Maneesh and Rachman were DJ'ing and played some really cool trance music. Of course the sound track of the berlin calling movie was played too.
So @tferriss showed up and we had one or two beers. It was very nice and inspiring to see this really successfull guy (New York Times bestseller author) listening and respond to all the questions his fans were asking him. He really is an eternal student. I talked to people who flew in from the UK, Prague and other cities just for the event. Even some people from the next conference showed up. We made a lot of pictures, danced and had some nice chats.
At three O'Clock in the morning I went to a hostel accross the street. Paid around 35 Euros for a night (free coffee included) really change from the expensive hotels were I sleep usually. I just missed a table in my room to work a little, but I did it in the breakfast room. Unfortunately some crazy French people woke me up after 3 hours of sleep, because they where chatting just under my window.
I had a short look at the Next Conference (German Recap by Björn and Johan), but many people told me they had expected more. For some of them the conference talks where too "meta" and they would have enjoyed more concrete talks and hands-on tipps. Since we're all working in the digital business we don't need anymore talks telling us that the times are changing…
On the evening I took my first Capoeira dance lesson (Watch the Vincent Cassel Training). What an amazing experience! I've been doing Anusara Yoga for over two years but I never got tired so quickly. In the evening I joined some new friends I meet at the party and checked out CouchSurfing for the first time. Thanks to Melissa for the wine and the pasta!
If you have the chance to be in Berlin be sure to check the weekly 4hww hang out organized by Rachman at the lovely CoWorking space at Betahaus Berlin every Friday. Join the 4hww Berlin Facebook group to be up to date.
I'm heading back to Hamburg to prepare for my speech about frontend optimisation at the Devcon Hamburg conference tomorrow. See some Pictures of the 4hww Party in Flickr
PS: Sorry Mum I didn't take the time to see you despite the fact I was in Berlin. We 'll be doing it next time.